Rituals, we normally imagine them to be in a jungle, voodoo style, hungga-hungga here, hungga-hungga there.
Rituals, can be done anywhere. Asalkan cukup syarat peralatan dan tatacara.
Believe me when I say rituals can be done on stage (concerts) and acting (movies). Acting as in not just pretend to do it, but doing it for real and presented to hungga-hungga audience through the silver screen. We are the hungga-hungga audience.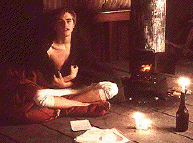 Why do they have to do it with us watching it? This is what they call energy. Lagi ramai orang, lagi besar aura tu la kiranya. True or not, wallahualam. Yang aku tau, aku takkan tengok tv or konsert terlalu khusyuk lagi. They ain't taking my energy... iyo iyo je teori aku.
Kalau percakapan kita adalah doa, apa yang dorang cakapkan juga adalah doa. What they say during stage act or singing are also prayers/cite. Cth la, kalau suami isteri berlakon babak cerai dan suami lafazkan "aku ceraikan kau (isteri) talak 3", kau rasa sah tak? Sah? Sah? Aku belajar dulu, katanya sah. Kalau tak betul, ustaz aku salah. Tapi aku rasa dia tak salah.
So, jangan la ambil ringan kalau diperkatakan perbuatan-perbuatan atas pentas/tv/wayang itu satu per"sembah"an. Kalau kita faham ritual dorang (the devil in particular), maka kau juga akan melompat bersama-sama aku mengutuk "wtf?".
Sekian.